Each month, the Ask a Librarian team will pick an outstanding member that has shown exceptional participation in the program.  We see how hard you are working to make this statewide program work, and we want to acknowledge your commitment to the program. Many of you continuously step up in tough times, whether it is picking up an extra shift or helping a colleague on the statewide desk when others are busy. We see how you market AAL to your patrons and students to promote the program. This shows a commendable effort on your part to help AAL provide exemplary service month after month.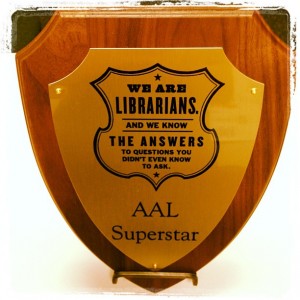 We will announce an AAL Superstar at the beginning of each month. We will also highlight the winner's accomplishments and dedication on the Ask a Librarian Blog and Facebook page. Once we announce the winner, we will send them the awesome AAL Superstar Plaque to display in their library. When the next winner is announced, the previous winner will help us celebrate the new winner by either passing the plaque onto them via the statewide delivery program, or sending it back to us at TBLC.
June AAL Superstar Award
Our first winner is Lena Phelps, Chair of Library Services at South Florida Community College. Lena always goes above and beyond her duties on the statewide desk, jumping on to help her colleagues or picking up extra shifts. Her enthusiasm for the statewide program is very energetic. Her hard work never goes unnoticed on  Ask a Librarian! Please help me welcome this month's winner, Lena Phelps!  Don't forget to send us a picture with the plaque, your hard work never goes unnoticed and we want your colleagues to see it!