The Quality Assurance Workgroup is happy to award the following transcripts for the May 2012 Exemplary Reference Awards. Transcripts were awarded in three categories: Best Brief Chat, Best Detailed Chat, and Best Teaching Chat.
The three winning transcripts can be read at: http://info.askalibrarian.org/toolbox/may-2012-exemplary-reference-awards-transcripts/
A huge thanks to everyone for all their hard work on Ask a Librarian – without each of you, Ask a Librarian would not be a success.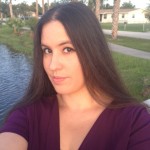 Brief Exemplary Chat: Diana Rojas, AAL Staff
Diana checked in three different library catalogs and then verified the holdings to make sure she had the correct building code for the patron. Very thorough. Good job!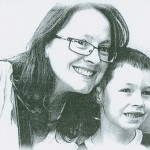 Detailed Exemplary Chat: Kristen Cole, Broward County
Kristen patiently fielded all questions that a patron at another library had in learning how to download an electronic book. Good clear explanations of the process!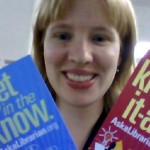 Teaching Exemplary Chat: Mary Kuipers, Leon County
Mary taught a patron how to search for and identify Kindle eBooks from another public library. Good rapport and teaching points
Congratulations to our winners!
Each month we receive numerous nominations for fantastic reference. Here are the other nominees:
Brief Chat:
Gary Parsons,    FAU
Ven B,     UCF
Natalie R,     New College of Florida
Jonathan D,    Maitland Library
Salena C,    Sanford-Brown Institute Fort Lauderdale
Alyse E,     FAU
Amy-Jane M,     Lee County
Trisha P     NOVA
Brian S     Delray Beach
Richard L     NOVA
Theresa S    Mandel Public Library
Anne R.    Monroe County
Meredith S.    UCF
Susan S    Hodges University
Detailed Chat:
Karen S,     FSU Libraries
Bronwyn M,    Ask a Librarian Staff – Kira
Sally B,     Lee County
James L,    Palm Beach County
Julio G,     Miami Dade Public Library System
Mike S,     Jacksonville PL
Carly P,     Wilderness Coast
Lauri R,     FAU
Greg,     NOVA
Merilyn ,   USF
Elizabeth C,    West Florida Public Library
Kira S.,    (Ask A Librarian Staff)
Teaching Chat:
Jamie G    AAL staff
Greg S    Nova
Jan S.    UF
Show your statewide colleagues that you value the customer service they provide to your patrons and students with a nomination. You can nominate yourself or your co-workers sessions in the Ask a Librarian Toolbox at: http://info.askalibrarian.org/toolbox/exemplaryreference/nominatetranscript/ or when closing a live chat session.