Each month, the Ask a Librarian team picks an outstanding member that has shown exceptional participation in the program. This month's AAL SuperStar winner is Rhonda Kitchens from State College of Florida Manatee-Sarasota!
Rhonda is a Librarian with the State College of Florida (SCF) – Venice Campus. She is also a March 2010 Exemplary Reference Winner for a detailed chat.
Rhonda is an amazing promoter of AAL. She helped roll out SCF's Instant Invite which became the first automated Click to Chat technology available to students in the state of Florida. She was awarded with the 2011 Learning Resources Commission Exemplary Practice Award for Library Services with the roll out of Instant Invite. Rhonda helped us test and launch the new In-Page Widget, localized text messaging and innovations within the program. She created this image for her students using the text messaging feature at SCF Library.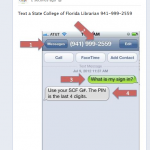 Rhonda is a such an ENTHUSIASTIC member of the Ask a Librarian team. She is a recent member of the Quality Assurance Workgroup, assisting with the Exemplary Reference Winners each month.
Please help me welcome this month's SuperStar winner, Rhonda Kitchens!