The Quality Assurance Workgroup is happy to award the following transcripts for the August 2012 Exemplary Reference Awards. Transcripts were awarded in three categories: Best Brief Chat, Best Detailed Chat, and Best Teaching Chat.
Brief Exemplary Chat:  Sue Griffiths, Pasco County Library System

Sue shows great rapport with Elizabeth and helps her understand the realities of job hunting. In a very short period of time, Sue gives her some advice and great resources, leaving Elizabeth better equipped and more knowledgeable.
Detailed Exemplary Chat: Joshua Fox, Orange County Library System
This chat starts off as a request for homework answers, but Joshua Fox uses reference questions to get the patron thinking about their assignment, including the literary concept of "external traits," in more depth.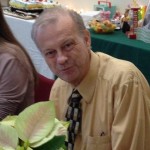 Teaching Chat: Gary Parsons, Florida Atlantic University

Gary Parson Worked with a student to find a copy of an article that the student needed. He guided the student to the print collection as that was the only place the full-text was found, and the student was grateful for the help
The three winning transcripts can be read at: http://info.askalibrarian.org/toolbox/august-2012-exemplary-chat-transcripts/
Each month we receive numerous nominations for fantastic reference. Here are the other nominees.
Brief Chat:
Gary P, FAU
Renee, Ask a Librarian Staff
Pammy H, Osceola
Lena P, South Florida State College
Kira S,  Ask a Librarian Staff
Detailed Chat:
Phil H, Martin County
Catherine, Jacksonville Public
Jan S,  UF
Lindsey W, FKCC
Lee S, Marion County Public Library
Marni,  Northwest FL State College
Douglas F, Jacksonville Public Library
Teaching Chat:
Susan S,  Hodges University
Kira S,  AAL
Isabelle F,  Pasco County Library System
Andy T,  Brevard Community College
Gloria B,  Jacksonville Public Library
Nominate: Show your statewide colleagues that you value the customer service they provide to your patrons and students with a nomination. You can nominate yourself or your co-workers sessions in the Ask a Librarian Toolbox at: http://info.askalibrarian.org/toolbox/exemplaryreference/nominatetranscript/ or when closing a live chat session.
THANK YOU!
A huge thanks to everyone for all their hard work on Ask a Librarian – without each of you, Ask a Librarian would not be a success.