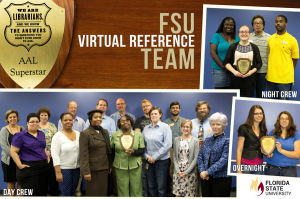 This month, we are recognizing a Library system that has played an outstanding part in the way Ask a Librarian operates. May's AaL SuperStar recipient is Florida State University Library System (FSU).
FSU envisioned a whole new way of utilizing Ask a Librarian when they joined in August 2011.  They view Ask a Librarian as an integral part of they way they serve their patrons everyday, from every page of their website and they do it from an FSU locally-branded desk.
FSU staffs their FSU-branded desk every hour that the library is open – a total of 134 hours per week. The local desk is their Ask a Librarian interface and they staff the collaborative desk as their contribution to the collaborative project.
The Ask a Librarian team would like to thank FSU for changing the way we think of Ask a Librarian – first as a local service and then as a statewide collaborative service.