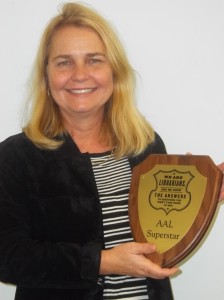 Each month, the Ask a Librarian team picks an outstanding member that has shown exceptional participation in the program. December's AAL SuperStar recipient is Jill Simser
 from
Eastern Florida State College
(EFSC).
Jill Simser is a librarian and site coordinator for Ask A Librarian at Eastern Florida State College – Cocoa Campus. Jill has won a Brief Exemplary Reference Award in 2007 and 2013. She is one of our biggest promoters for Ask a Librarian, both internally within EFSC and statewide. She promotes chat and texting which increases student statistics, staff participation and encouragement. Jill continually helps the AAL team with promotion of the service to their students through widgets on their site and instant invite. 
Her fantastic efforts to promote Ask a Librarian benefits the staff, patrons and students! Thank you Jill! Your dedication and readiness is always energetic!
Please help me congratulate this month's SuperStar winner, Jill Simser!