The Quality Assurance Workgroup is happy to award the following transcripts for the November 2013 Exemplary Reference Awards.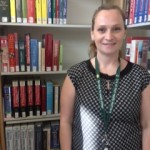 Brief Exemplary Reference Award: Amy-Jane, Lee County Library System 
Amy did a great job efficiently providing a patron with 3 different resources on maritime piracy. She quickly navigated through the resources and delivered just what the patron was looking for.
Detailed Exemplary Reference Award: Robin Bravard, Hernando County Library System
Robin B. helped a graduate student with a very specific topic of research. She gave the student a good start by finding useful articles on the student's topic.
Teaching Exemplary Reference Award: Stacy A, Nova Southeastern University
When another librarian transferred this chat due to technical difficulties, Stacy stepped right in and was able to walk the student through the MLA citation process. Great explanations and teaching points!
Transcripts: The three winning transcripts can be read at: http://info.askalibrarian.org/toolbox/november-2013-exemplary-reference-award-transcripts/
Each month we receive numerous nominations for fantastic reference. Here are the other nominees.
Brief Chat:
Juan L, Ana G. Mendez University
Jaime G, Ask a Librarian Staff
Kira, Ask a Librarian Staff
Emily W, Goldstein FSU
Susan S, Hodges University
Lisa, Keiser University
Jonathan D, Maitland Library
Joshua F, Orange County Library System
Claire M, South Florida State College
Laura B, State Library
Charlyn, Citrus County
Paul McD, UF
Pam H, Jersey College
Detailed Chat:
Dawn B, Goldstein FSU
Susan S, Hodges University
Claire M, South Florida State College
Zach E, Everglades
Merilyn, USF
Natalia M, Osceola County
Teaching Chat:
Valerie H, Ave Maria University
Kathleen H, Delray Beach
Dawn B, Goldstein FSU
Dani L, Palm Beach County
Athena, UCF
Wei C, Gulf Coast SC
Nominate: Show your statewide colleagues that you value the customer service they provide to your patrons and students with a nomination. You can nominate yourself or your co-workers sessions in the Ask a Librarian Toolbox at: http://info.askalibrarian.org/toolbox/exemplaryreference/nominatetranscript/ or when closing a live chat session.
THANK YOU!
A huge thanks to everyone for all their hard work on Ask a Librarian – without each of you, Ask a Librarian would not be a success.