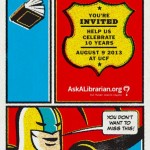 Join the Ask A Librarian Team for a 10 year Anniversary Celebration!
We will be celebrating the program's milestone 10 year mark. We will share stories, pictures, videos and more to embark on our next journey. Come share your favorite Ask A Librarian story and network with your virtual reference colleagues from around the state.
Registration: http://floridalibrarywebinars.org/events/2426/
Where: University of Central Florida, Library Room 223 2nd Floor
12701 Pegasus Drive, Building 2 Orlando Florida 32816-2666
When: August 9th, 2013
When: 9:00 am -12:00 pm 
Speaker: Susan McGlamery,  Product Manager for QuestionPoint.

Presentation: Cooperative Reference: A global perceptive. Lessons learned from 13+ years managing the 24/7 Reference Cooperative, major trends/issues to be aware of today, and some thoughts about the future.  
10 year celebration – Marisa -Hernando County from Ask a Librarian on Vimeo.